EarthLift
As the world transitions to clean energy, Stertil Koni is introducing eco-friendly equipment to stay right in step.
EARTHLIFT is the industry's first "green" mobile column lift.
And here's why: Its columns are made from 98% recyclable components, and it uses bio-degradable oil and 100% recyclable batteries. Our Active Energy Retrieval System uses energy from the lifting process, then returns it to the batteries that power the lift.
Using this gravitational energy reduces energy consumption and increases shop productivity. Lifts can operate for longer periods of time, servicing more vehicles.
All that green power comes with a lot of muscle. EARTHLIFT has a capacity of 18,500 to 22,000 pounds per column. For a full set of four, that's a total lift of 74,000 to 88,000 pounds.
The EARTHLIFT is also wireless. And like our other mobile column lifts, comes with a full-color touch screen control that allows its operator to monitor vital details about the system, plus see the savings they're realizing in real-time.
Environmentally friendly

Wireless as standard

Full-color touch screen control as standard
Recyclable Batteries

Operator can see savings in real-time

Biodegradable fluid is contained
The Green Standard
EARTHLIFT: A superior heavy duty lifting solution that is mobile, environmentally friendly, safe, fast and secure. Combine the best in green lifting technology with the power and ease-of-use found in all Stertil-Koni lifting systems.Plus, enjoy the benefits of a full-color touch screen control console – the ebright Smart Control System – which comes as standard on the EARTHLIFT and delivers maximum information in real-time. Capture up to 50 lifting cycles without battery charging and optimize productivity in your workshop.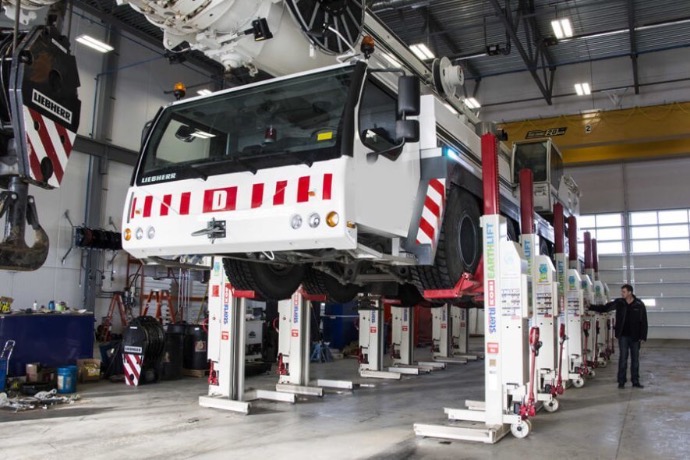 Active Energy Retrieval System (AERS)
The principle of the Active Energy Retrieval System (AERS) is as brilliant as it is simple: to use the energy generated by the raised vehicle as it comes back down. In other words: regain the gravitational energy.
Minimum Repair, Minimum Damage

Totally cable-free, Sterti-Koni EARTHLIFT eliminates potentially expensive repair bills of damaged cables and offers ultimate safe working conditions as there are no tripping hazards caused by cables over the workshop floor.
Full-Color Touch Screen Control
The revolutionary ebright smart control system combines intuitive ease of use with maximum visual information about the lifting process.
The 7" full colour high resolution touch screen is also operational when wearing gloves. With the user ID key, the user can configure the system to its personal needs.
Maximum Mechanical Safety
Independent mechanical gravity locking pawl; starts at 5 inches. Minimal incremental locking profile with 1 3/8 inch increments, the smallest available in the industry. Vehicle damage prevention due to 10 inch distance between lift and vehicle. Precision synchronization starts at 5/8 inch height difference between the lift and the vehicle

Maximum Control Safety
Individual user settings for choosing language and units. Protection against unauthorised use with personalized ID key. Visual display of maximum programmable lifting height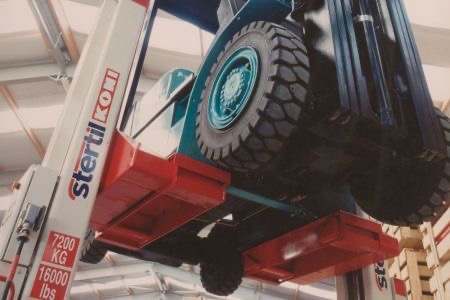 ForkLift Adapters
Stertil-Koni forklift adapters have been specifically engineered to efficiently lift heavy forklifts - which often have uneven weight distribution between the front and rear axles. Designed for use in conjunction with Stertil-Koni Mobile Column Lifts, these adapter kits are designed for three- and four-wheel forklifts and can safely raise 32,000 lbs.

Contact Us Today about Stertil-Koni Mobile Columns!