Mobile Column Lifts
Mobile Column Lifts from Stertil-Koni allow you to safely lift a wide range of heavy duty vehicles quickly and efficiently. From delivery vans and pumper trucks to school buses and fire engines, from agricultural vehicles and airport tugs to class 8 tractor trailers and utility trucks, we lift them all.
Lifting capacities range from 14,000 lbs. to 40,000 lbs. per column.

Super safe mechanical locking system as standard

Maximum strength with high tensile DOMEX steel

Full-color touch screen controls on all models

Available in Wireless, Cabled, and EARTHLIFT models
Adjustable pick-up forks

Rapid lifting and lowering time

Full-color touch screen controls on all models

Overload protection and synchronization as standard
Mobile Column Lifts: Truly Mobile!
Stertil-Koni Mobile Column Lifts really are mobile! Featuring synthetic wheels and a hydraulic pallet truck mechanism, these lifts are easily moved and deployed on any smooth, level surface.
Additionally, Stertil-Koni's available retractable wheels prevent high point loading reducing the surface pressure by a factor 10. Use with confidence - indoors or out!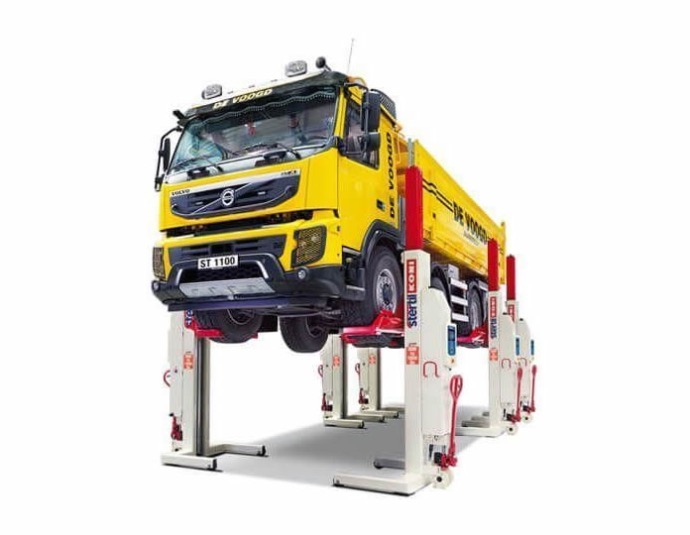 Fast Lifting and Lowering
Stertil-Koni Mobil Column Lifts reach their maximum height of 73" un just 94s, placing them among the fastest mobile column lifts in the world.
Adjustable Lowering Speed
Precisely control your lower speed with Stertil-Koni's interactive bright Smart Control System. A single tap of the screen offers precise control over the vehicle's lowering speed, permitting precise positioning of the vehicle for undercarriage work.
CABLED
Utilizes building power, voltage ranges from 220 VAC-single phase, to 208-575 VAC-three phase, all at a more economical price point.
EARTHLIFT
The first hydraulic GREEN Mobile Column Lift in the industry. The Active Energy Retrieval System (AERS) allows up to 50% more lifting cycles.
WIRELESS
No external power sources is required, no interconnecting cables necessary and hence no risk of tripping - all with minimal set up time.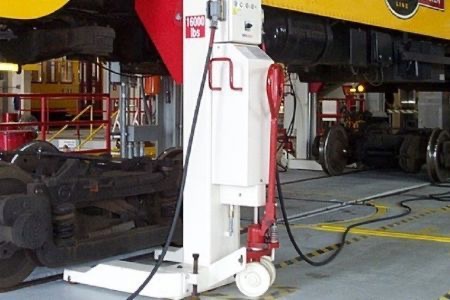 Lowered Base Frame
Specially designed for vehicles with body skirting, that requires extremely low ground clearance. This option is available on all models.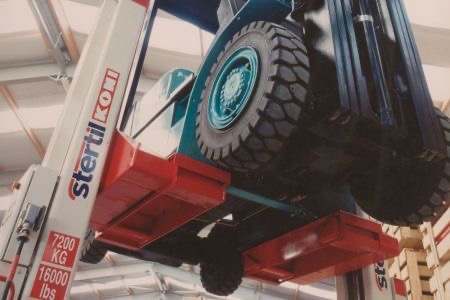 ForkLift Adapters
Stertil-Koni forklift adapters have been specifically engineered to efficiently lift heavy forklifts - which often have uneven weight distribution between the front and rear axles. Designed for use in conjunction with Stertil-Koni Mobile Column Lifts, these adapter kits are designed for three- and four-wheel forklifts and can safely raise 32,000 lbs.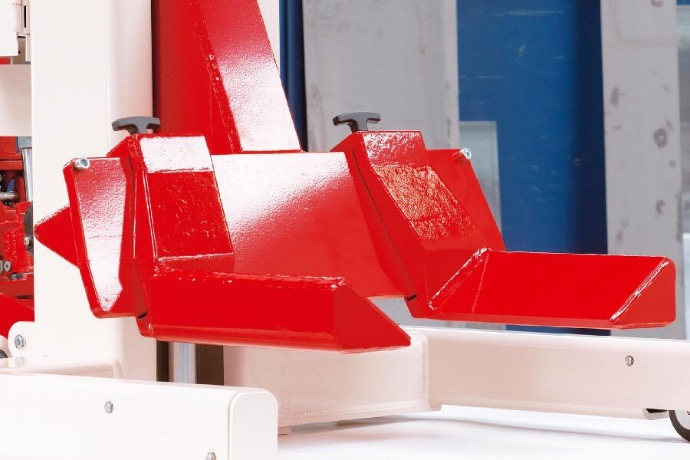 Extra Wide Forks
Specially designed for vehicles with large diameter tires. This option is only available on models ST1065, ST1082, ST 1085 & ST 1100. The extra-wide forks can handle wheel diameters up to R24.5 with a tire outside diameter up to 63 inches.

Contact Us Today about Stertil-Koni Mobile Columns!