Challenger's 12,000 lb. capacity CL12 2-post lift maximizes your profitability with true 3-stage front and 3-stage rear arms. The CL12 can accommodate a wide range of common cars, trucks, vans as well as SUVs within the same service bay. Geared arm restraints and steel pulleys increase durability. Other features include a single-point mechanical lock release system that allows technicians to disengage both column locks simultaneously and a padded overhead shut off system. Standard and extended height models can now be adjusted 6″ to allow for ceiling obstructions, making them easy to install.
We know that no two shops are the same. That's why we now offer the CL12 with new productivity tools for personalized efficiency. Choose your size, controls and speed, and know that your investment is customized to lift your shop to new heights. Stack adapters come standard for all models.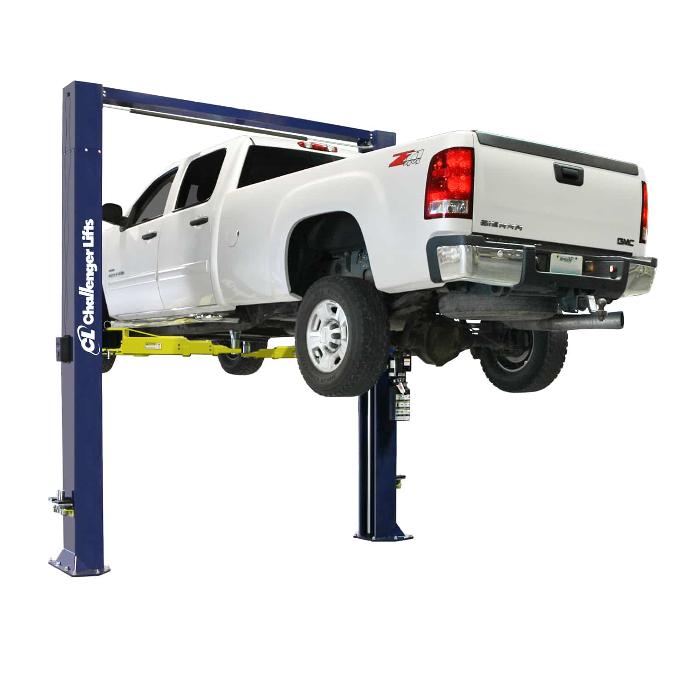 Challenger CL12
---
13' 8" Overall Height, 84.75" Full Rise
142″ Overall Width / 12,000 lb. Capacity
1' and 2' Column Extensions Available
Challengers 12,000 lb. 2-post series lifts provide the capability to pick up the smallest passenger cars, heavy-duty pickup trucks, and everything in between. Standard true 3-stage front and 3-stage rear arms offer the necessary flexibility to maximize your service potential as well as the durability and rigidity you'd expect from a 12,000 lb. lift.

Additional options are available such as QuickCycle Upgrade and Dual-Pendant Control.
Low-Ceiling Model Available with 11' 11" Overall Height

Request More Info

Lift Point Accessories
- Single telescoping heavy-duty footpads (4), 4" stack adapters (4), 8" stack adapters (2) and an organizer rack.
Standard True 3-Stage Arms
- Each of the three expansion phases is constructed of solid steel to ensure maximum rigidity, durability and technician security.
Extra Features
- 3-stage front and 3-stage rear arms accommodate a wide range of common cars, trucks, vans as well as SUVs within the same service bay.
- 60" lifting carriage design increases lift life.
- Adjustable column height accommodates higher profile vehicles and provides maximum headroom to work underneath vehicles.
- Pulley-less jacketed single-point lock release system makes for smoother, easier operation and longer life.
Features & Benefits Cont.
---
Quick Cycle
- The Quick Cycle hydraulic enhancement increases lift service efficiency by saving 30% rise and descent time. Boost the productivity and profitability of your shop by servicing more vehicles in the same amount of time.
Dual Pendant Controls
- Always within technician reach when small spotting adjustments matter, dual pendant controls expedite vehicle spotting from either column by providing an unobstructed view to lifting points.
Adjustable Heights
- Maximize your vertical shop space with an extended Challenger CL12 lift. Optional steel sleeve extensions add 1' or 2' to your overall height. Or adjust your lift up to 6" lower to account for possible ceiling obstructions.
Lift Compatible Accessories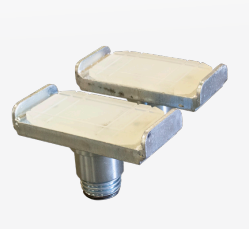 GM Footpad (Part # B2280PR)
Extra-wide heavy-duty polyurethane footpads designed for 2019 Chevy® Silverado® and GMC® Sierra® trucks. Sold in a set of 2.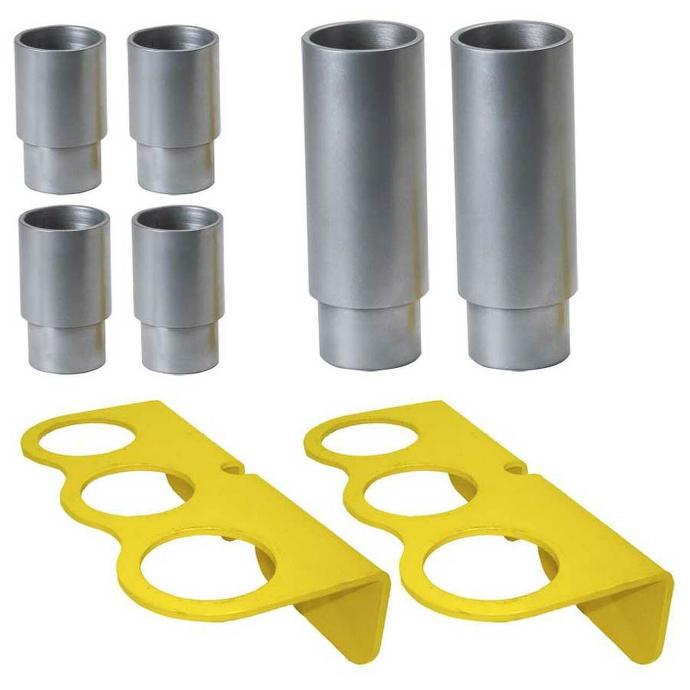 Stack Adapter Kit (Part #10315)
Stack adapter kit - includes (4) 3 in. Stack Extensions, (2) 6 in. Stack Extensions & (2) Organizer Racks with hardware.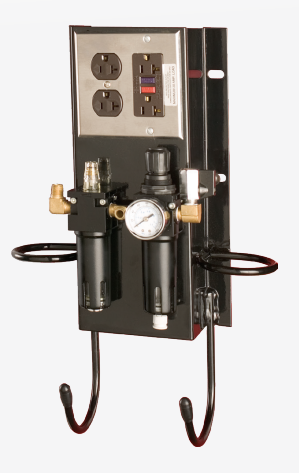 Air Electric Work Station (Part # B10264A)
Provides an air regulator, filter, lubricator, electrical outlets, and a place to hold tools. All of this, directly mounted to the lift column, for ultimate convenience for technicians.